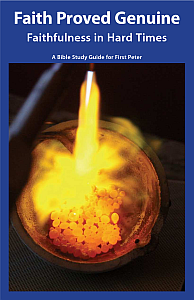 This Bible Study guide for First Peter contains both a question section with ample space for responses and leader's notes written by Pastor Victor Skaggs. Following the link, you can read the back cover text:
Order Your Copy Here! (This link brings you the the General Conference web store.)
Life is hard. Sometimes it is very hard. How do you respond to hard times? With joy? With bitterness? With defeat? For the earliest Christians, life was hard and the state was against them. For example, a Roman governor wrote to the emperor:
I interrogated them whether they were Christians; if they confessed, I repeated the question twice again, adding threats at the same time; when, if they still persevered, I ordered them to be immediately punished… 1
and the emperor replied, in part:
if indeed [Christians] should be brought before you, and the crime is proved, they must be punished; with this restriction, however, that when the party denies himself to be a Christian, and shall make it evident that he is not, by invoking our gods, let him … be pardoned upon his repentance. 1
Just a few years before these words were exchanged, the apostle Peter wrote to Christians facing their own set of hard times. He promised that faithfulness was possible and that God would be faithful to those who trusted in Him. As you study this letter, you will learn more about following Christ in hard times (and in easy times, too).
1 Pages 178-180. Riddle, Joseph Edmond. Manual of Christian Antiquities. Published by John Parker in London, 1843. As transcribed by Google Books < http://books.google.com/books?id=UAJOAAAAYAAJ&pg=PA178 > on July 1, 2010.