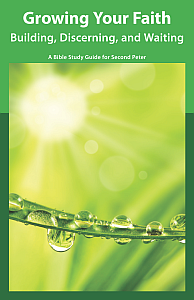 This Bible Study guide for Second Peter contains both a question section with ample space for responses and leader's notes written by Pastor Victor Skaggs. Following the link, you can read the back cover text:
Order Your Copy Here! (This link brings you the the General Conference web store.)
God calls Christians through New Testament authors to pursue growth toward maturity.
Peter's second letter emphasizes that call and includes a step-by-step outline of spiritual growth. This Bible study guide will help you discover that outline. As you study, you'll be challenged to put the outline into practice. In addition, you'll come to see that building your faith, discerning false teaching, and waiting for the promises of God are important parts of your Christian walk.