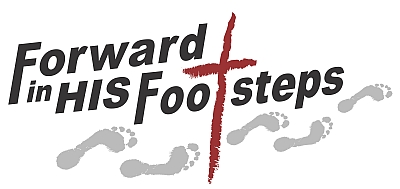 Downloads:
Theme: "Forward in His Footsteps"
The 2012–13 program is based on the theme chosen by Conference President Ralph Macintosh of the Foothill Community Seventh Day Baptist Church (Montrose, CA). Families can work together to memorize these verses—each age group memorizes part or all of the same verses.
For those who prefer to memorize contiguous sections of Scripture, this year's long text is
Psalm 119:33-44.
A list of persons from each church who have completed this Scripture Memorization Program should be submitted to the Board of Christian Education Office. The deadline for submission is July 8, 2013. Unlike in past years, this date is determined by when the document arrives (and not the postmark). The July 8 date is one week later than it has been in the past.


Certificates for those who memorize all verses will be distributed at the 2013 General Conference.
Scripture quotations are from Scripture quotations are from THE HOLY BIBLE, NEW INTERNATIONAL VERSION®, NIV® Copyright © 1973, 1978, 1984, 2011 by Biblica, Inc.™ Used by permission. All rights reserved worldwide.
Month
Youth/Adult
Junior
Primary
October
How sweet are your words to my taste, sweeter than honey to my mouth! I gain understanding from your precepts; therefore I hate every wrong path. Your word is a lamp for my feet, a light on my path. (Psalm 119:103-105)
Your word is a lamp for my feet, a light on my path. (Psalm 119:105)
Your word is a lamp for my feet (Psalm 119:105a)
November
My feet have closely followed his steps; I have kept to his way without turning aside. I have not departed from the commands of his lips; I have treasured the words of his mouth more than my daily bread. (Job 23:11-12)
My feet have closely followed his steps; I have kept to his way without turning aside. (Job 23:11)
My feet have closely followed his steps. (Job 23:11a)
December
My steps have held to your paths; my feet have not stumbled. I call on you, my God, for you will answer me; turn your ear to me and hear my prayer. (Psalm 17:5-6).
My steps have held to your paths; my feet have not stumbled. (Psalm 17:5)
My steps have held to your paths (Psalm 17:5a)
January
Teach me, Lord, the way of your decrees, that I may follow it to the end. Give me understanding, so that I may keep your law and obey it with all my heart. Direct me in the path of your commands, for there I find delight. (Psalm 119:33-35).
Direct me in the path of your commands, for there I find delight. (Psalm 119:35)
Direct me in the path of your commands. (Psalm 119:35a)
February
I instruct you in the way of wisdom and lead you along straight paths. When you walk, your steps will not be hampered; when you run, you will not stumble. (Proverbs 4:11-12)
I instruct you in the way of wisdom and lead you along straight paths.(Proverbs 4:11)
I…lead you along straight paths. (Proverbs 4:11b)
March
This is what the Lord says: "Stand at the crossroads and look; ask for the ancient paths, ask where the good way is, and walk in it, and you will find rest for your souls." (Jeremiah 6:16a)
Ask where the good way is, and walk in it, and you will find rest for your souls. (Jeremiah 6:16b)
Ask where the good way is. (Jeremiah 6:16b)
April
You have made known to me the paths of life; you will fill me with joy in your presence. (Acts 2:28)
You have made known to me the paths of life; you will fill me with joy in your presence.(Acts 2:28)
You have made known to me the paths of life. (Acts 2:28a)
May
The path of the righteous is level; you, the Upright One, make the way of the righteous smooth. Yes, Lord, walking in the way of your laws, we wait for you; your name and renown are the desire of our hearts. (Isaiah 26:7-8)
The path of the righteous is level; you, the Upright One, make the way of the righteous smooth. (Isaiah 26:7)
The path of righteous is level. (Isaiah 26:7a)
June
He calls his own sheep by name and leads them out. When he has brought out all his own, he goes on ahead of them, and his sheep follow him because they know his voice. (John 10:3b-4)
He calls his own sheep by name and leads them out. (John 10:3b)
He calls his own sheep by name. (John 10:3b)
or
Memorize Psalm 119:33-44